Tourism Management: Why You Should Complete a Certification In Travel & Tourism or Certificate III in Guiding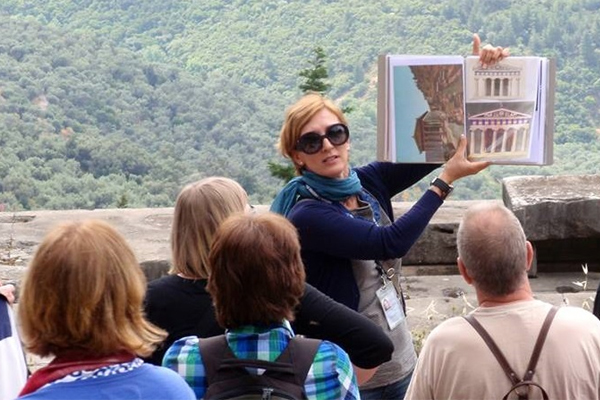 Planes to paradise. White sandy beaches and Piña Coladas underneath palm trees. We know what you're thinking. Why wouldn't everyone want to study travel, tourism or guiding?
Doesn't life like this sound too good to be true? We've been digging a little deeper into some more reasons why completing a Certificate in Travel and Tourism or Certificate III in Guiding could be the best thing. Ever.
Job prospects in the travel and tourism sector are as wide as they are deep. If you're stronger on the administration front, there's plenty to coordinate from behind the desk. Consider being a domestic or International travel consultant, or a tour sales assistant. And while online check-ins are rising at airports, there's still a huge demand for desk clerks too. There's something rewarding about being the smiling face that helps jet set others on their way to their next holiday.
If getting amongst the action is more up your alley, the opportunities are also endless. Consider a career in conference organizing, tour guiding or being an official activities officer!
If you love to travel and you're a people person, a travel & tourism management diploma course will put you on the right path to a very rewarding career. Travel and tourism have always been a fun and exciting industry. These days it's offering even more diversity and more opportunities than ever before. Here are a few more reasons that you might not have thought of.
The world is your Oyster
There is no better way to see and experience the world than working in travel and tourism. Whether that's sharing pictures of paradise daily or suggesting different mountain ranges for groups to climb. Inspiration is at your fingertips. With a travel and tourism course under your well-traveled wings, you'll have the best offers at your fingertips. You might even be able to stay away, pick up work on the run, in a different country, or even at sea.
With a travel and tourism education, the world is your Oyster. Use your knowledge, expertise, and love for culture to inspire others.
The rise of Ecotourism
There has always been plenty of people looking to book travel. There still is. Arguably now more than ever before; they just want to do it a little different. There's a whole new era of travel ahead of us, and you can be part of a new booming business.
It's a great option if you're looking for a way to make a positive impact on the planet. Plus, being a part of a growth industry, is only ever a good thing. It's hard to imagine a world where tourism will be completely sustainable. However, you can be part of a movement that works towards it becoming even better. It's a new niche. A type of tourism that respects the local people and cultures, as well as the environment. With travel and tourism knowledge you'll be set to carve out a special focus such as Sustainable Tourism.
Pave your own way and work for yourself
Gone are the days where the only way to see the world was atop a tour bus. Hello, bespoke and boutique experiences. These days you can become a travel agent and tour guide in one. If you're interested in paving your own way, a travel and tourism course will have you winning in next to no time. A course will help with the insider secrets to success, while your life experiences will pepper your point of difference.
One day you might book a group day-long tour to the mountain tops, and the next you might be managing a meal in a local's home. The key is understanding the travel sector and being able to provide a long list of opportunities to your prospects.
From art tours to itineraries, packed with cuisine and history, you'll be ready to offer holidaymakers a trip they'll never forget.
Be Innovative with a travel career
Do you want to be part of a progressive industry? With travel and tourism, you can! Think about tech giants Airbnb who now offer experiences alongside stays. These are one-of-a-kind activities designed and hosted by locals. They offer a deep dive into the local host's world through their own passions. The travel industry is huge (and always growing). It's a great sector to stand out by being a little bit innovative.
A Travel and Tourism Management Diploma has many strings to the courses bow. There are a myriad of ways that you can take your learnings from a fun course such as this!
Don't only work in paradise. Learn in paradise too! Undertake one of many travel and tourism courses in Cairns today. Complete a Certificate in Travel, Tourism or Guiding today and set your sites on a lifetime of happiness.