How long have you been in UAE?
I have lived in Dubai for 3 years.
What field were you in before you start your social media page?
I'm a published photographer from the US. I went to University for Filmmaking Studies and Digital Media. As a photographer, I have been published in magazines like Maxim Italia, Esquire Bulgaria, Playboy Philippines FHM India and shot for clothing brands and content production companies.
Tell us about your passion for social media and how did you decide to become an influencer?
I moved to Dubai with my family and decided to use my photography skills as a content creator for companies and brands. I've worked with Empire Movies, Nars Cosmetics, Fujifilm, Nokia, Dell Computers and even UAE Tourism Boards. I post that and other content on social media, growing my account to be considered influential. For about a year now, I have been a contributing beauty writer for WKND magazine, which I am really proud of. I was an official 2019 Ambassador for the Middle East Film and Comic-Con, quite an expanding experience.
It's one thing to have a public presence on social media to a "large" audience. It's quite another thing to take the responsibility of providing value and influencing a community.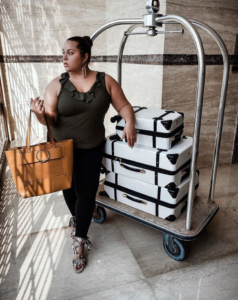 Seems like there are new social media bloggers and influencers every day. How does that affect you?
It does seem that way, doesn't it? But there is quite a difference between those who claim to be something and those who do the work and earn it. For me, it's about providing value to a community that trust you. Being an influencer is not related to the number of followers one has on a platform. Someone with seven thousand followers could have more of an influence on their community than someone with seventy thousand. That's why I always recommend brands and PR companies to engage with the blogger/influencer before they work with them.
Honestly, the terms "blogger" and "influencer" are said very loosely these days. There are a lot of people online who call themselves bloggers who don't have a blog. That's a very curious thing to me. Similarly, to the blogger title, there are many influencers out there who cannot influence their audience who are called influencers because they have a certain number of followers on a platform. The stigma on the title of influencer is something I cannot personally shake. I prefer the term "digital content creator" because my goal is to create photo and video content for brands. When it comes to influencing, at least for me personally, I make recommendations based on my personal experience.
What is one of your biggest challenges as an influencer?
The community is generally insecure, which can cause jealousy. It's not cute.
What is your advice to new bloggers?
If you do mean bloggers and not influencers, I would recommend being authentic to your brand and writing content that is true to you. Honestly, that's my recommendation for anyone looking to have a public platform on social media.
Excluding my job and hobbies, my family, food, and traveling make me quite a happy person.
Let's do a quickfire of your favorite things:
Phone                    iPhone Max
Food                       Chinese + Italian
Luxury Brand       Alexander McQueen
Beauty Brand      That's impossible
Movie                    Leon (The Professional)
Superhero             Wonder Woman
Candy                    Butterfinger or Peanut Butter M&Ms
Vacation Spot      Maldives
Color                      Black
What's next for you?
I'm considering starting a Podcast or expanding my YouTube, or perhaps both!