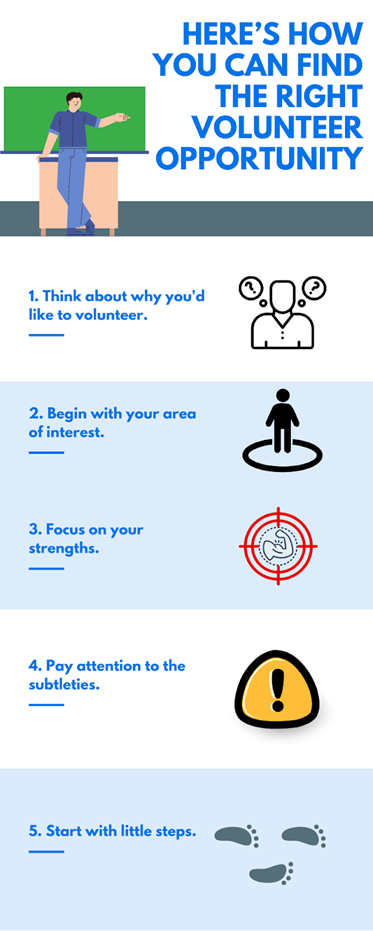 Finding the right volunteer organization or opportunity for you is not as simple as it seems. There are more resources than ever available to assist you in finding the correct organisation and ensuring that it is the ideal match for you. Before you start digging through the myriad of possibilities available while looking for the ideal volunteering foundations in Singapore, consider the following tips.
1. Think about why you'd like to volunteer.
Volunteering might help you reawaken abilities that have been inactive or pursue an interest in a much more meaningful sense. You'll make new acquaintances, further your network, and most likely have a good time. It can also help you break into a new profession or explore different career options.
2. Begin with your area of interest.
Start with your interest or passion if you're not sure where or how you want to start. Consider your preferences as well as your pastimes and what you like to do. If nothing makes sense, seek guidance from relatives and friends who know you well. You can also get ideas from sites that connect people with volunteer activities and other youth entrepreneurship programs.
3. Focus on your strengths.
Allow your abilities and capabilities to drive you once you've decided on a cause to work for. Perhaps you wish to engage directly with individuals who gain from an organization's services, or you might act as a consultant, sharing knowledge that is relevant to the organization's objectives. Find out what you're good at and use it to become involved.
4. Pay attention to the subtleties.
It's time to become strategic once you've determined your topic of interest and the abilities you prefer to employ. Examine the overall goals of the foundation to ensure that its purposes are compatible with yours. Evaluate the financials to determine how they disperse resources and to ensure that their links match your goals.
5. Start with little steps.
There are numerous things you can do with your time. Be realistic about the length of time you can provide and make false promises when deciding. Burnout prevention is, after all, an important component of successful volunteerism. Recognize that the abilities you can offer have limitations.
Volunteering is beneficial for various reasons and does not have to take up a lot of time. Take this guide with you as you begin your search for the right volunteer opportunity.